Please remember that our sponsors are who keep "The First Day" on the air. They would also like to this program to be aired on many different stations across the USA! So support our sponsors please, and let them know how you heard of them, and that you appreciate the work that they are part of!
You will also find a list of creation organizations, and other ministries and sites that are worthy of your websurf time. Please let them know also how you heard of them!!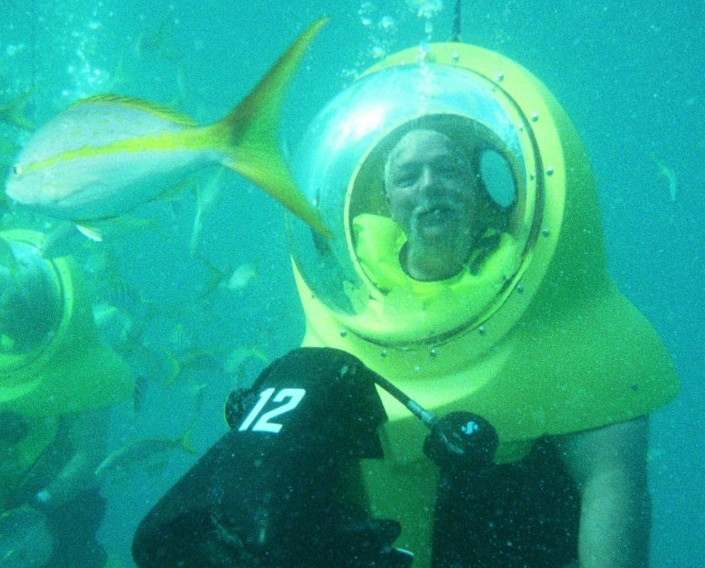 F. Ed doing some underwater research off the island of St. Thomas U.S. Virgin Island January 18th, 2005
O U R S P O N S O R S !
OxicommTelecommunications
This is where you can shop for the least expensive Long Distance Bundled 800 Toll Free T1 Dedicated Calling Cards Internet Access High Speed ISP Broadband Phone Dialaround Unlimited LD Conference Calling Voice Messaging Web Services Cellular Satellite TV Computers VoIP Services and much much more!!!
Own your own SHOPPING MALL on the web!
You can save big and make money too by shopping and sharing with this web-mall!
Why we are not a "Tax-exempt" 501(c) 3
FREE-CHURCH, not controlled by GOVERNMENT
The First Day refuses to become an incorporated 501c3 organization by subordinating itself, by contract, to the civil government. For theological purposes, any organization that has made a covenant with the State, is contracted into a covenant which Scripture in no way supports. Thereby we are a committed Free Church organization. A free-church is a church that is truly separate, independent and autonomous from the State. Please see more on this subject at: http://hushmoney.org/free-church_solution.htm
Doctor Dino creation website!
Creation Science Evangelism - Creation, Evolution, Dinosaurs, and the Bible.
C R S - Creation Research Society
This is the famous society of scientists that helped start the modern creationist movement!!! Please join this society, and purchase materials from them, and let them know how much you care, AND that you heard about them on "The First Day" radio show!
I C R - Institute For Creation Research
ICR is where the late Dr. Henry Morris started getting the word out with lots of good resources, radio, and through the web. This is where "Science Scriptures & Salvation" and "Back To Genesis" come from. Also this is where the "Jonathan Park" creation adventure series got it's start! So go ahead and shop for some cool stuff there, and always tell 'em you heard 'em here on "The First Day" radio show!
Jonathan Park Creation Series
This takes you to a real adventuresome site and its' adventure filled sights! JONATHAN PARK! You've heard it on "The First Day", now take the tour of the site! Download all sorts of fun, games, a maze, word games, coloring pages, news, a creation store and more! Better tell 'em you hear "Jonathan Park" on "The First Day" while you're visiting them!
A i G - Answers in Genesis
F. Ed Knutson really is excited for Answers in Genesis because of the new Creation Museum that is nearing completion! Click on this link to go on a video tour now! There is also a lot of other resources, like my favorite creation songs by Buddy Davis! Also their video productions, and lots of books and such makes it a fun place to shop and learn.
Evolution-Facts.org
Contained in one paperback book are hundreds and hundreds of detailed summaries in one book called the Evolution Cruncher dispelling the incorrect information presented by evolutionists! There is lots more on the website that you can research regarding specific topics!
Dr Jobe Martin's minsitry website
Dr Jobe Martin has written a superb book on the subject, The Evolution of a Creationist (1990) which is available for purchase in softcover or cassette tape. This book tells the story of his evolution -rather- revolution from being a believer in Darwinian evolution to a believer and adamant promoter of God as the creator and creationism.
In addition, Dr. Martin, in collaboration with Reel Productions, has produced a very interesting and enjoyable video documenting Incredible Creatures that Defy Evolution. This is a fantastic video series that's fun to watch and learn from!
Ed's Voice-Over/Voice-Acting site.
If you need voice over or voice acting done, you need to go to this site ASAP!