Please sign our guest book. Your information will not be sold or distributed. Please tell us how you like the idea of the creation program. Also tell us if you would like to have a creation speaker come to your town. Do you plan on building your own creation library?
Remember that to reach others for our Lord Jesus Christ we must go all the way back to the beginning in Genesis. So start building your creation library today, not only on the shelf, but in your MIND!
The picture below is of most of the Jonathan Park radio drama cast with F. Ed kneeling in the lower middle of the window!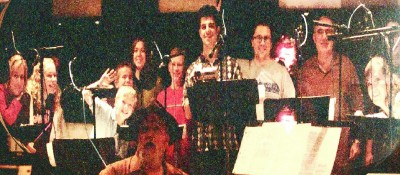 Thank you!
Your comments and suggestions are always helpful in showing us the direction we need to go in our ministry. Let us know if the show blesses you, and send in any testimonies that you may have regarding creationism.